Introduction
When it comes to finding a great bar with pool tables in Everett, WA, look no further than the 128th Sports Bar. Located in the heart of Everett, this popular establishment offers a vibrant atmosphere, excellent service, and a wide range of entertainment options. Whether you're a pool enthusiast or simply looking for a fun night out with friends, the 128th Sports Bar is the place to be. In this article, we will explore what makes this bar the best choice for pool lovers in the area.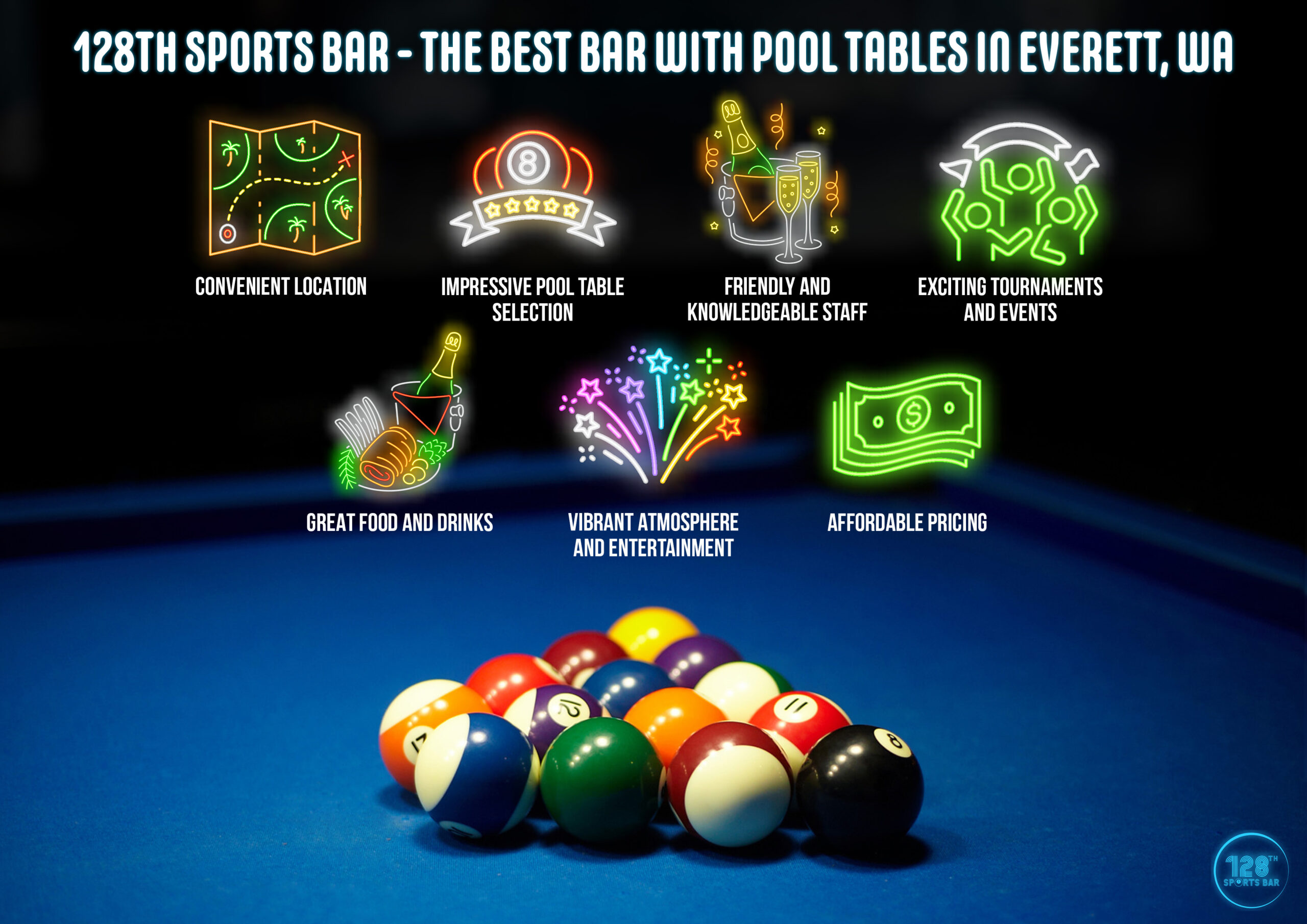 1. Convenient Location
The 128th Sports Bar boasts a convenient location in Everett, WA. Situated at the intersection of 128th Street SW and Highway 99, it is easily accessible from all parts of the city and surrounding areas. Whether you're a local resident or visiting from out of town, you'll have no trouble finding this popular establishment.
2. Impressive Pool Table Selection
One of the key attractions of the 128th Sports Bar is its impressive selection of pool tables. The bar features multiple well-maintained tables, ensuring that there's always a game available for you to enjoy. Whether you're a seasoned pool player or a beginner looking to have some fun, you'll find the perfect table to suit your skill level and preferences.
3. Friendly and Knowledgeable Staff
At the 128th Sports Bar, you can expect exceptional service from the friendly and knowledgeable staff. The staff members are passionate about pool and are always ready to assist you with any questions or concerns. Whether you need help with the rules of a game or want some expert tips to improve your skills, they are more than happy to provide guidance.
4. Exciting Tournaments and Events
For those seeking a competitive edge, the 128th Sports Bar regularly hosts pool tournaments and events. These tournaments offer players the opportunity to showcase their skills and compete against other enthusiasts. Whether you're a seasoned player aiming for the top spot or someone who enjoys the thrill of friendly competition, these events add an extra level of excitement to your pool-playing experience.
5. Great Food and Drinks
The 128th Sports Bar is not only known for its exceptional pool tables but also for its fantastic food and drinks. The bar offers a diverse menu featuring delicious appetizers, mouth-watering burgers, and a variety of beverages, including a wide selection of beers on tap. You can enjoy a tasty meal and refreshing drinks while taking a break from your pool games.
6. Vibrant Atmosphere and Entertainment
Step into the 128th Sports Bar, and you'll immediately feel the energetic and vibrant atmosphere. The bar is designed to create a lively and entertaining environment for its patrons. With large screens displaying sports events, live music performances, and occasional DJ nights, there's never a dull moment at this bar.
7. Affordable Pricing
Another reason why the 128th Sports Bar stands out is its affordable pricing. The bar offers competitive rates for table rentals, making it accessible to a wide range of budget-conscious individuals. You can have hours of fun playing pool without breaking the bank.
Conclusion
In conclusion, if you're looking for the best bar with pool tables in Everett, WA, the 128th Sports Bar should be at the top of your list. With its convenient location, impressive pool table selection, friendly staff, exciting tournaments, great food and drinks, vibrant atmosphere, and affordable pricing, it's no wonder why this bar is a favorite among pool enthusiasts. Pay a visit to the 128th Sports Bar and enjoy a memorable and enjoyable experience.
FAQs (Frequently Asked Questions)
1. Is the 128th Sports Bar suitable for both beginners and experienced pool players?
Absolutely! The 128th Sports Bar caters to players of all skill levels, from beginners to experts. They have a range of pool tables suitable for different playing levels.
2. Are reservations required to play pool at the 128th Sports Bar?
Reservations are not required, but they are recommended, especially during peak hours. Making a reservation ensures that you have a table available at your preferred time.
3. Can I participate in pool tournaments if I'm not a professional player?
Yes, the pool tournaments at the 128th Sports Bar are open to players of all levels. It's a great opportunity to test your skills and have fun competing with others.
4. Can I order food and drinks while playing pool?
Certainly! The 128th Sports Bar offers a delicious menu and a variety of drinks that you can enjoy while playing pool.