If you're looking for ways to make your sports bar stand out and draw in more customers, digital displays are the way to go. From enhanced visuals of the game to interactive promotions, they provide a variety of benefits that will make watching the game more fun and exciting for everyone!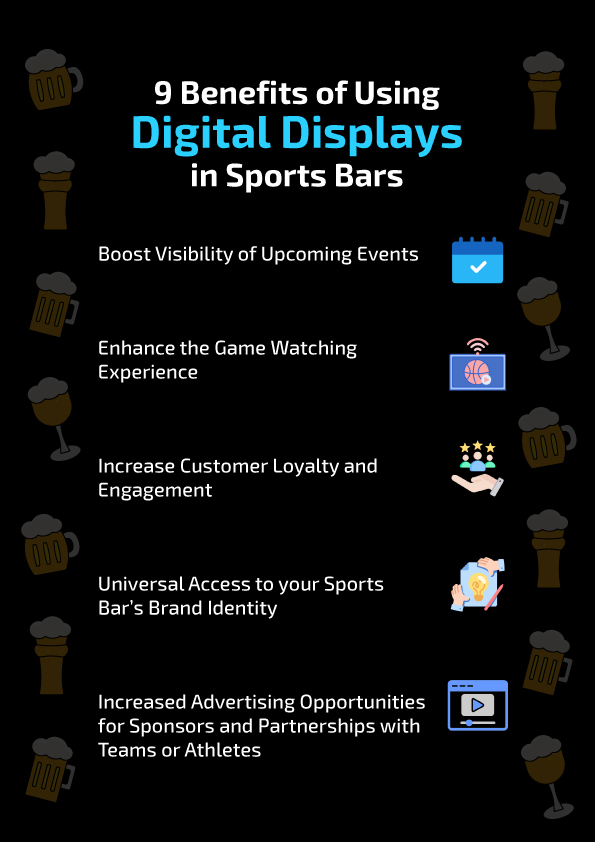 Boost Visibility of Upcoming Events
Digital displays can make upcoming events stand out from the crowd as they offer an engaging way to advertise them. You can create vibrant visuals of the events that grab attention and inform customers. Plus, you can include attractive plans and deals related to those events to drive more bookings while increasing revenue.
Enhance the Game Watching Experience
Digital displays can enhance the sports bar game-watching experience for your customers and help create an exciting atmosphere. With these high-quality screens, you can create a more immersive environment in your bar, increasing the amount of engagement during a match or game. Customers will be able to enjoy games with appropriate audio and visuals that make it easier to feel as if they're part of the action.
Increase Customer Loyalty and Engagement
Digital displays are great for engaging customers and increasing customer loyalty. With digital displays, customers can watch the game or match with an immersive atmosphere surrounded by high-quality visuals, sound, and content specially tailored for them. This can help encourage customers to stay in your bar longer, resulting in increased profits and customer loyalty. Featuring interactive elements on the digital displays can also help keep customers engaged throughout the game and make them feel more involved in what's happening.
Universal Access to your Sports Bar's Brand Identity
Digital displays provide a great opportunity to showcase your sports bar's brand identity to customers. You can use the screens for customized marketing and promotions,such as introducing special offers or highlighting high-demand products. Additionally, you can use digital displays to feature informational content such as game statistics, player biographies, and the history of different teams or leagues. This helps inform patrons while they watch the game so they feel better connected to it and enjoy their experience even more.
Increased Advertising Opportunities for Sponsors and Partnerships with Teams or Athletes
Digital displays give you the ability to advertise sponsored content or highlight partner deals. This opens up a world of possibilities for bringing in increased revenue and boosting brand visibility for your sports bar. You can focus on partnerships with local teams and athletes or target large-scale events like the Super Bowl. No matter what you want to focus on, digital displays make it easier than ever to share relevant promotional content with everyone in your establishment.