128th Sports Bar is the greatest bar for people in Everett, Washington because it's full of fun, frolic, and entertainment. The Sports bar is equipped with different variety of games, and beverages which enhance the overall ambiance. However, visiting the sports bar to watch a game is much better which involves going out and hanging out with family and friends. This bar is well equipped with the latest technologies like TV, Tablets, surround sound, and A/V which upgrades the entertainment process. Visit 128th Sports Bar and have a great game-day experience with us!
Are you Curious?
Put the Thinking caps on!
Let's dive into this guide!
Benefits of Visiting 128th Sports Bar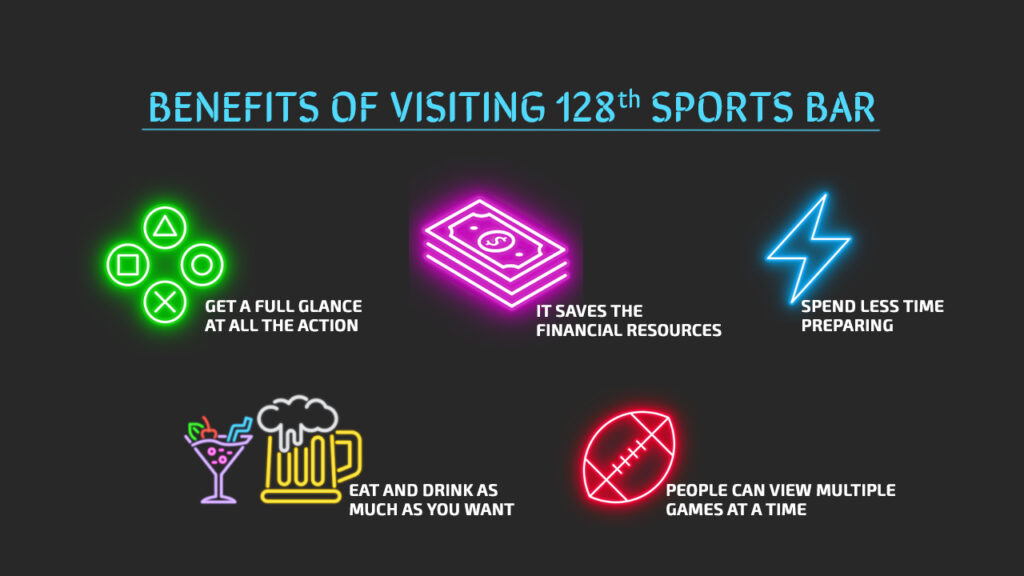 Get a full glance at all the action
Watching a match in a sports bar gives full access to the viewers where they can view all the action. Watching a game in a stadium means the field of vision is limited to what side of the space you are on. Moreover, you can get distracted and disturbed by rowdy neighbors, or the view can be obstructed by the exceptionally tall people in front of you. At an outdoor Sports Bar in Everett, you get detailed information about what's going on during the game. You get the views from all sides so we are not left wondering what happened when your favorite player hit a kickass shot.
It Saves the Financial Resources
128th Sports Bar will eventually help in saving finances because one can watch multiple matches by sitting in one place whereas in a stadium you are captivated inside the stadium where you have to pay money just for one match.
Spend Less Time Preparing
While going to a stadium to watch a game means you have to allocate time for dressing, driving, and commuting. In the 128th sports bar, all you need to do is show up with your friends, and family and eventually choose a spot with a good view because many TV screens are available.
Eat and Drink as much as you want
In a sports bar, we have access to a full bar menu, yummy food, and beverages however in a stadium you are limited to what's being sold at the stands or stalls.
People can view multiple games at a time
In a sports bar, one can witness several matches just by glancing around whereas in a stadium you are captivated by one match that's in front of you.
Conclusion
128th Sports Bar is the greatest entertainment place for people from all walks of life because it can be your one-stop destination to unwind and dive into the new zone of euphoria. It is located in Everett, Washington. This bar has different types of games like basketball, baseball, and dart which enhances the entertainment of people. The ambiance in the 128th Sports Barr is considered to be the best and people regardless of caste, creed and culture gather at one place for entertainment and Adrenaline pumping.
So come and get the Adrenaline Rush at 128th Sports Bar
What are you waiting for?