Are you looking for a fun way to connect with fellow fans and show off your sports team spirit? Then come join us at Everett's favorite local sports bar! Enjoy an enjoyable atmosphere, delicious food and drinks, and cheer on your team with fellow fans.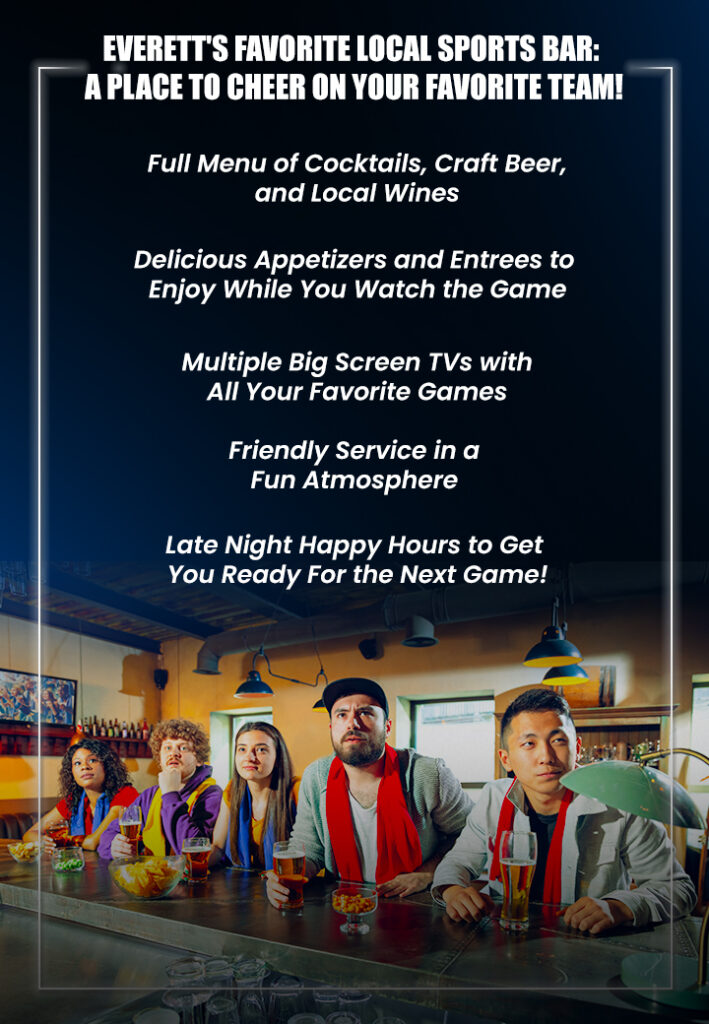 Full Menu of Cocktails, Craft Beer, and Local Wines
Come join us to enjoy a full menu of exclusive craft cocktails, custom-brewed beers, and local wines to help you cheer on your team! Our bar is fully stocked with all your favorites, plus selections from the best local distilleries, breweries, and wineries. Enjoy delicious food to accompany your drinks, including handmade pizzas, traditional pub grub, and even upscale plates.
Delicious Appetizers and Entrees to Enjoy While You Watch the Game
At Everett's favorite local sports bar, we are proud to offer a wide selection of delicious appetizers and entrees to enjoy while watching your favorite teams in action. Whether you are looking for something light or something more indulgent, we have something sure to appeal. Try our signature mozzarella sticks or nachos supreme for a classic snack, or opt for one of our gourmet burgers made with fresh local ingredients. You won't be disappointed!
Multiple Big Screen TVs with All Your Favorite Games
Our sports bar is the perfect spot for any gathering, offering multiple big-screen TVs so that you and your friends can cheer on your favorite teams with instant replays. Catch all the major games in full HD on our wide selection of HDTVs. Plus, we regularly offer special promotions, like post-game freebies and discounts when cheering on local favorites! So come find out why Everett's favorite local sports bar has become the go-to spot for great food, team spirit, and fun!
Friendly Service in a Fun Atmosphere
At Everett's favorite local sports bar, our friendly staff is dedicated to providing you with an incredible experience. We offer an array of great food and drinks, as well as a full range of fun games to keep your team spirit alive while you cheer on your favorite teams. Plus, our bartenders are always ready to whip up some creative cocktails with a twist that will make your night even more enjoyable!
Late Night Happy Hours to Get You Ready For the Next Game!
Don't miss out on our special late-night happy hour specials at Everett's favorite local sports bar! Whether you're looking to catch up with friends or just need a pregame boost, we've got great deals every day and night. From discounted drinks to cheap eats, you'll always find something to enjoy while rooting on your team!