Head to the sports bar & grill in Everett for a night out with friends and family. Enjoy delicious food and drinks while watching your favorite team on the big screen. We are sure that you will have a great time here with our friendly atmosphere and great deals. Come visit us today!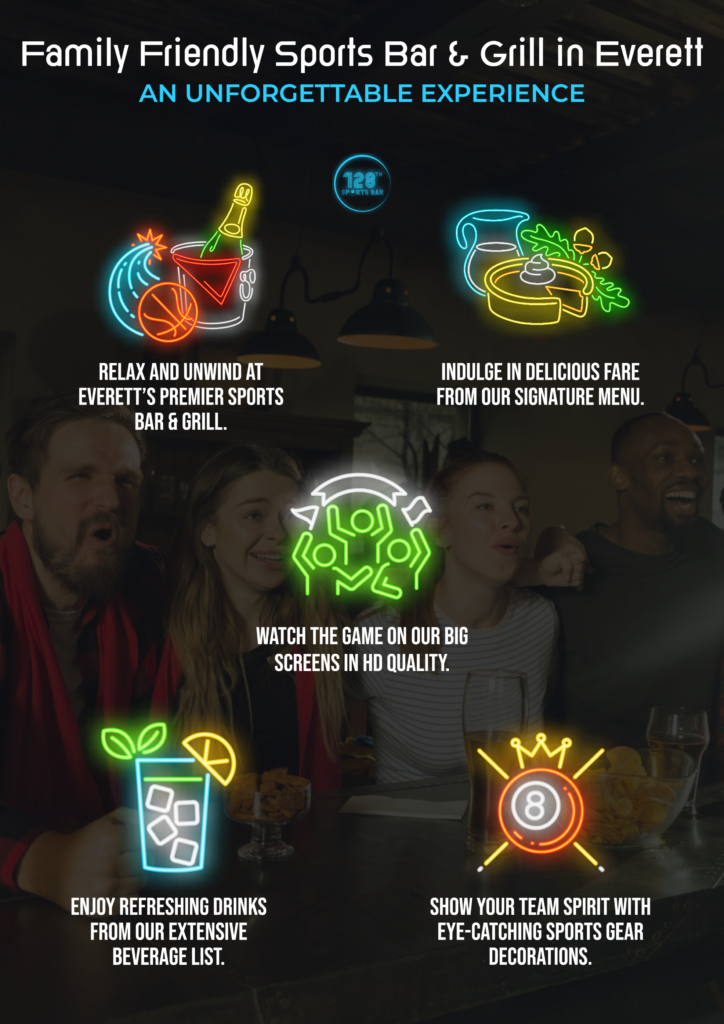 Relax and Unwind at Everett's Premier Sports Bar & Grill.
Whether you're looking for a place to celebrate a victory or just relax and enjoy a game with friends, the sports bar & grill in Everett is the perfect spot. Enjoy delicious food, refreshing drinks, and lively conversation in our comfortable atmosphere. With our big-screen TVs, there's no better way to catch all the action than at your new favorite place. Come by today and experience an unforgettable evening!
Indulge in Delicious Fare from Our Signature Menu.
Our signature menu offers a variety of mouthwatering dishes, from hearty burgers and sandwiches to juicy steaks and other delicious entrees. Enjoy classic pub fare along with creative food specials. We also have a full selection of sides and appetizers, along with an extensive rotating craft beer selection, wines, and liquors. No matter what you are in the mood for, there's something for everyone at the sports bar & grill in Everett.
Watch the Game on Our Big Screens in HD Quality.
With four large flat-screen TVs that show different games at the same time, you and your family can watch all of your favorite sports teams in high definition. Enjoy every play on our crystal clear displays – and cheer on your favorites as you share a meal with friends or family members. Sports fans have an unforgettable experience at our establishment – and it's truly a unique‬ take on traditional sports bars.
Enjoy Refreshing Drinks From Our Extensive Beverage List.
When you come to watch the big game, you'll want to make sure you have a refreshing drink in your hand. Luckily, our extensive beverage list offers something for everyone. Whether it's one of our craft brews or a classic cocktail, you'll be sure to find something to quench your thirst. Sit back and enjoy an icy cold beer, crisp white wine, specialty martinis, and more. Cheers!
Show Your Team Spirit With Eye-Catching Sports Gear Decorations.
When you enter our restaurant, you'll be immersed in a world of sports-themed decorations that are perfect for showing off your team spirit. Our walls are filled with sports memorabilia, jerseys, helmets, and more – all lovingly collected to create an eye-catching atmosphere that rivals any professional sports arena. So whether you're a diehard Seattle Seahawks fan or an exciting new player on the scene, there's something here for everyone.