Sports bars have always been a popular destination for fans to gather and cheer on their favorite teams. However, with the rise of online streaming services, the competition for sports fans' attention has become increasingly fierce. As a result, it's important for sports bars to find new and innovative ways to attract customers and grow their fan club chapter. In this blog, we'll share some sports bar marketing tips to help you do just that.
Offer Special Promotions
One of the best ways to attract customers to your sports bar and encourage them to join your fan club chapter is by offering special promotions. This could include discounts on food and drinks, free merchandise, or exclusive access to events. For example, you could offer a free t-shirt to anyone who signs up for your fan club, or a discount on their first food or drink purchase. These types of promotions not only incentivize customers to join your fan club but also give them a reason to come back to your sports bar again and again.
Host Game-Watching Parties
Another effective way to grow your fan club chapter is by hosting game-watching parties. These events can be a great way to bring fans together, create a sense of camaraderie, and build a community around your sports bar. You could even invite members of your fan club to attend exclusive game-watching parties, with special perks such as free food and drinks or raffles for sports merchandise. Not only will these events attract new customers, but they will also help keep your current fan club members engaged and excited about your sports bar.
Create Social Media Accounts
In today's digital age, social media is a powerful tool for businesses to connect with customers and promote their offerings. By creating social media accounts for your sports bar and fan club chapter, you can share news, updates, and events with your followers. Be sure to post frequently and engage with your audience, answering questions and responding to comments. You can also encourage your fans to share your content with their own networks, which can help attract even more customers to your sports bar.
Build a Mailing List
While social media is a great way to connect with customers, email marketing can be even more effective when it comes to promoting your sports bar and fan club chapter. By building a mailing list of your customers and fan club members, you can send out newsletters and updates about upcoming events and promotions. Make sure to personalize your emails and make them visually appealing, with images and graphics that showcase your sports bar's offerings.
Partner with Local Sports Teams
Partnering with local sports teams is a great way to cross-promote each other's events and offerings. For example, you could offer a discount to customers who show their ticket stub from a local game or host a viewing party for an away game of a local team. You could also sponsor a local team or athlete, which can help raise awareness of your sports bar and fan club chapter among the local community.
Leverage Influencers
Influencer marketing can be a highly effective way to promote your sports bar and fan club chapter. Reach out to local influencers and sports bloggers who have a large following on social media, and offer them exclusive access to events or free merchandise in exchange for promoting your sports bar to their followers. Be sure to choose influencers who align with your brand's values and target audience, and track the results of your campaigns to ensure that they are generating a positive return on investment.
Hold Contests
Holding contests can be a fun and engaging way to encourage people to join your fan club. For example, you could offer a prize to the first 50 people who sign up, or a free meal to the fan who brings the most new members to the club. You could also hold social media contests.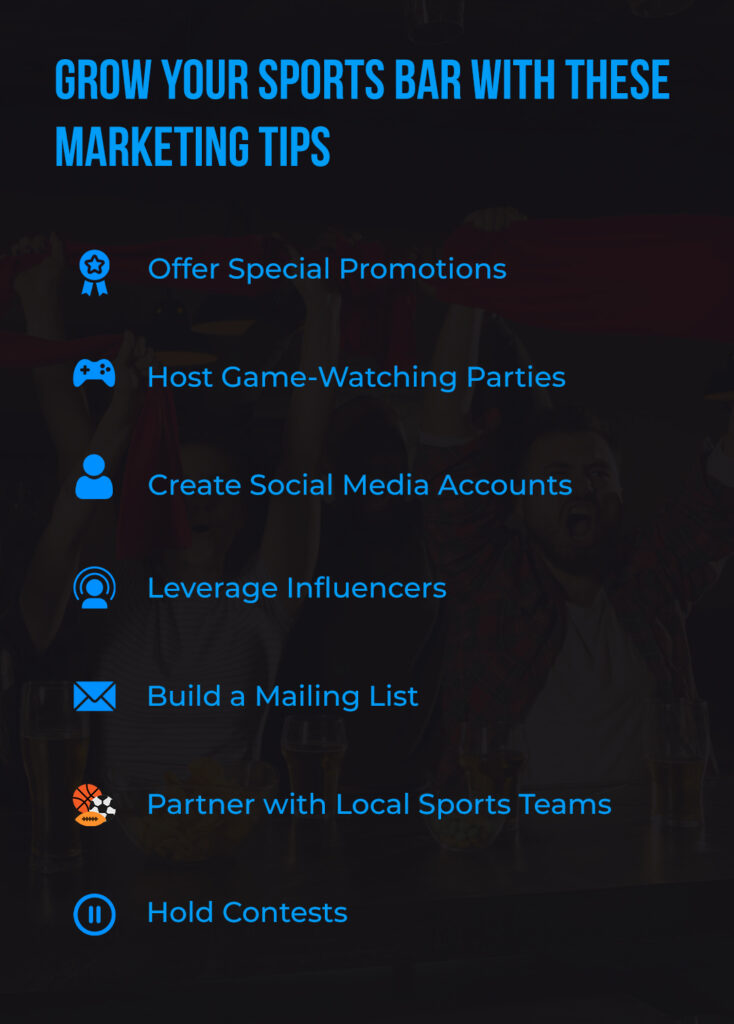 Conclusion
By following these marketing tips, you can help grow your sports bar's fan club chapter and create a community of passionate fans.