As the owner of a sports bar, your main goal is to attract customers and keep them coming back for more. With so much competition in the restaurant and hospitality industry, it's important to differentiate yourself from other establishments by creating a unique atmosphere that makes you stand out. Here are some tips on how to turn your sports bar into a guest magnet.
Immersive environment with attention-grabbing decor
One of the key ways to attract customers and make your sports bar stand out is by creating an immersive environment that engages your guests. This can be achieved by paying attention to the decor and ensuring that it aligns with your brand story. You can also invest in high-quality audiovisual (AV) equipment, such as large-screen TVs or projectors, to create a viewing experience that is unmatched. Consider using theme-based decor and creative lighting solutions to add character to your sports bar's design. The goal is to make sure that guests feel like they're getting a complete experience at your bar, rather than just watching a game on TV.
Diverse selection of food and drinks
Food and drinks are an essential part of the sports bar experience, and offering a diverse selection can make your establishment stand out. Consider catering to different dietary preferences and restrictions, such as vegan or gluten-free options. You can also offer unique and creative menu items that set you apart from other sports bars in the area. Don't forget to have a wide variety of drinks available as well, including craft beers, cocktails, and non-alcoholic options like mocktails or smoothies. A comprehensive selection of food and drinks can help ensure all guests feel welcome and satisfied at your sports bar.
Host regular themed events and promotions
One of the best ways to make your sports bar a guest magnet is by hosting regular themed events and promotions. This can help create a sense of community among your patrons and keep them returning for more. Consider hosting watch parties for big games, offering discounts during certain sporting events, or even organizing trivia nights with prizes. This not only adds excitement and entertainment to your establishment but also helps to boost foot traffic and increase revenue. Don't forget to promote these events through social media and other advertising channels to generate buzz and attract new customers.
Good customer service
When it comes to running a successful sports bar, customer service is key. Friendly and knowledgeable staff who make guests feel welcome and valued can be the difference between someone choosing your establishment over others. Ensure that your staff members are well-trained on the menu items, drink specials, and upcoming events so that they can provide top-notch service. Encourage them to engage with customers, create a welcoming atmosphere, and handle any issues or complaints quickly to ensure that patrons have a positive experience. Word of mouth is still one of the most powerful marketing tools available, so providing excellent customer service can help to generate repeat business and attract new customers through recommendations from satisfied patrons.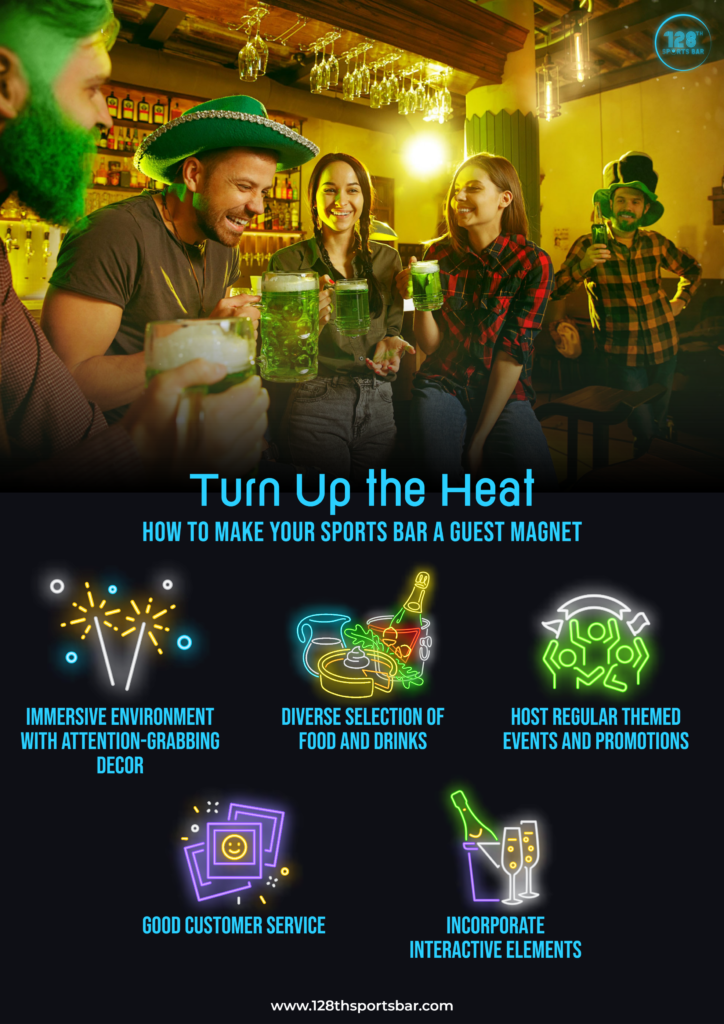 Incorporate interactive elements
To make your sports bar stand out, incorporate interactive elements that will not only entertain your guests but also encourage them to engage with your brand on social media platforms. For instance, you could set up a game area where guests can play various games such as beer pong or darts. You could also run regular contests that reward winners with discounts or special promotions. Photo booths are another great way to create an engaging atmosphere and encourage social media sharing as guests share pictures of their experiences at your bar. These interactive elements not only provide entertainment but also build a sense of community around your brand, making your bar a must-visit destination for sports fans and enthusiasts.